Minecraft Club Christmas 2020
Tokyo's #1 Free Student Minecraft Club by Tokyo Coding Club
Make new friends in Tokyo and join the event or building/coding competition for a chance to win cool prizes!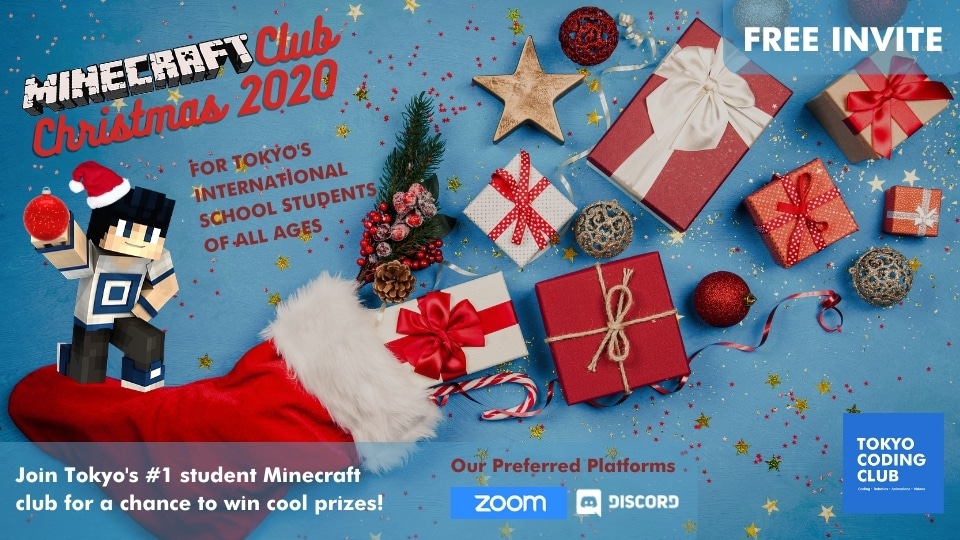 For the month of December, over 20 Tokyo Coding Club students brought merriment and cheer to our annual Minecraft Club Christmas. We saw ornaments, we saw Christmas trees, we saw snowmen, but most importantly we saw the creativity and hard work that everyone put in. All of our elves shined so bright. Find out the winners below…
Winners have been contacted via email. Please contact us if you see your name on this list, but did not receive an email. Be on the lookout for our upcoming events as well!
Coding
1st Place: Jaeyoon Lee
2nd Place: Theo Lee
3rd Place: Kent Kawada
Special Mention: Kenta Nagamori
Quo Book Card (gift card) vouchers
Category
Voucher Amount
Individual
1st Place: 3000 yen
2nd Place: 2000 yen
3rd Place: 1000 yen
Special Mention: 1000 yen
Group
1st Place: 4000 yen
2nd Place: 3000 yen
3rd Place: 2000 yen
Special Mention: 2000 yen
Coding
1st Place: 3000 yen
2nd Place: 2000 yen
3rd Place: 1000 yen
Special Mention: 1000 yen
Every entrant will receive a participation certificate.
Even when it's not December, you can still have fun in Minecraft with Tokyo Coding Club!
Check out our Minecraft Club Hunger Games! From 4-5:30pm on Saturdays, participate in activities such as Minecraft hunger games, holiday events, and competitions for free on a server run by Tokyo Coding Club.The server is moderated live by a Tokyo Coding Club tutor to maintain operational status, fairness of play, and online safety of the players. You can be sure when your child games with us, they are gaming in a safe and fun environment.
We use Zoom for the best video-conferencing quality and highest lesson productivity for our students.


 Check out our other free events and webinars.
Also, check out our free coding club when you sign up with us!